Contact & Social networks
contact@juliettevivier.com
Instagram & Facebook
About
Born in 1979 in Abidjan, Juliette Vivier spent her childhood in West Africa. Back in France, she studied Litterature at university and then enterered
the Ecole Nationale Supérieure des Arts Décoratifs in Paris, where she specialized in Engraving.
Her artistic practice develops in printmaking and drawing. Etching particularly, is the heart of her research, in a free and contemporary approach. In line with her paper artworks, she's now developing a volume practice, using ceramics.
She also collaborated to a collective project named Conflicts with french artist Stéphanie Cazaentre from 2010 to 2015.
Juliette has been a laureate of various grants by the Fondation Pilar i Joan Miró in Mallorca (Spain), Pépinières Européennes pour Jeunes Artistes
and Cité Internationale des Arts (Paris), she has lived in Spain and has been a resident researcher of well known residence, especially the French Academy in Madrid (Casa de Velazquez), and also in Greenland and Denmark.
Her artwork is actually presented online on Un-Spaced Studio, ledessincontemporain.fr, and Zeuxis, and also at La Réserve in Reims, the Fyns Grafisk Værksted in Danemark and Grafik i Väst (Sweden).
She lives and works in Paris.
Curriculum Vitae
EDUCATION
2017 Professional training : Initiation to ceramics – Beauvais Art School, with Hervé le Nost & Hélène Néraud
2012 Paris public classes for adults, Modeling- Moulding with Didier Brault
2001 – 2006 École Nationale Supérieure des Arts Décoratifs (ENSAD) – Paris ( MA équivalent)
Multidisciplinary training, specialisation in engraving (including print, edition, graphic design, drawing)
Diploma's essay "De rebus quae geruntur, Research about Rebus", with Distinction
2005 – 2006 Exchange Ecole Nationale des Beaux-Arts de Paris – lithography studio
2004 – 2005 International ERASMUS exchange at the Barcelona Fine Art Faculty – Spain
2000 – 2001 Foundation course in Fine Arts – Ateliers de Sèvres, Paris
1998 – 2000 BA in modern litterature, Sorbon University – Paris III
1997 – 1998 Foundation course in littérature – Lycée Molière, Paris
1997 Qualified child worker/play leader Certificate (BAFA)
PERSONAL EXHIBITIONS
2019 CHAOSMOS – Manifestampe – Paris
2015 31.31.31 #10 – Old Yoplait Factory, Ivry/Seine
2014 Festival Mirada des Mujeres – El Viajero Alado Gallery – Lebrija (Spain)
2010 Fragments – Teasmith Gallery, London
COLLECTIVE EXHIBITIONS
2019
DETOURS AUX MOULINS : Yann Bagot, Juliette Vivier, Sandrine Pagny and Didier Legaré-Gravel – Mills from Moulin l'Evêque, Cosne-Cours-sur-Loire / curator : Anne Touquet
2018
MOVING : Jacques Salles, Choun Vilayleck, Christophe Dentin, François Kenesi, Juliette Vivier – Zeuxis Art Room, Paris
THE EVIDENCE OF NIGHT : Bruno Gadenne, Vassilis Salpistis, Juliette Vivier, La Maladrerie – Aubervilliers / Centre d'Arts plastiques d'Aubervilliers, Curator : Juliette Fontaine
Aroma Collective – Paris / curator : Madlen Herrstrom
Moret Studio's 70 years old exhibition, Town hall of 5th arrondissement – Paris
Aroma Collective, National Museum Arsenals – Riga / curator : Madlen Herrstrom
Odile Aillet, Marie Belorgey, Ximena de Leon Lucero, Jeanne Rebillaux-Clauteaux, Juliette Vivier : Town Hall of the 8th arrondissement – Paris
2017
La Petite Collection #3 : Espace CO2 invited in Galerie Bertrand Grimont – Paris
LES RHIZOMES DU VIVANT : Galerie de la Rotonde – Paris / curators : Pauline Lisowski & Maud Louvrier-Clerc
Sarcelles Etching biennal – 95200 Sarcelles (Fr) / curator : JP Tanguy
Shanghai printmaking biennal : with Grafik i Väst / curator: Wavely Liu
PROJECTIONS : CP5, le Shakirail – Paris / curator : Pauline Lisowski
ROULEZ JEUNESSE : Journées Européennes des Métiers d'Art, Ateliers Moret, Paris
Akroma collective, Paris
2016
Open-Studio : Un-Spaced Office Paris / curator: Hugues Albes-Nicoux
AVANT // POST PAYSAGE : Lluis Perico & Juliette Vivier, La Réserve – Reims / curator : François Kenesi & Eglantine Dargent-Guy
RELEVE : Collective Show organized by AAEENSAD, hommage to the 250th birthday of ENSAD – Crédit Municipal de Paris
International Printmaking Biennal Douro – Portugal
Printmaking Day, place St Sulpice – Paris / Jeanne Clauteaux, Wang Suo Yuan, Juliette Vivier
Dessin contemporain & populaire – Les Vans Museum, Les Vans (FR)
Galerie White Project : La Petite Collection#2, Espace CO2 – Paris
Printmaking alive : invited by Graver Maintenant, L'entracte – Ville d'Avray
Salon International du Dessin et de l'Estampe : invited by Ateliers Moret, Grand Palais – Paris
DDEssin : La Petite Collection#2, Espace CO2 – Paris
PARAGES / Double Séjour – Paris : Collective show in apartment / host : Thomas Havet
Date as per postmark : Villa Mallet-Stevens – Paris / curator : Valentine Busquet, proposed by PEJA
2015
Bibliothéca – Christmas Party#1 : Under Construction Gallery – Paris / curator: Aurélie Faure a.k.a Katarina Stella
Offprint Paris : Printing on Fire / curators : Laura Morsch-Kihn & Océane Ragoucy
Etching Triennal in Lisle sur Tarn – Raymond Lafage Museum
ITINERANCIA 2014, annual exhibition of artists from la Casa de Velazquez – Manoir de la Touche, Nantes
Other Relief : G8 studio at Cité Internationale des Arts – Paris / curators : Océane Ragoucy & Sylvain Couzinet Jacques
Artists from Casa de Velázquez : Sala Zuloaga, Fuendetodos, Zaragoza
Composed Futures: Villa Mallet-Stevens, Paris / proposed by Pépinières Européennes pour Jeunes Artistes, curator: Valentine Busquet
2014
Landscapes : Stéphane Aupiais, Ana-Maria Gomes, Alice de Sagazan, Juliette Vivier – Paris, private flat
Nuages aux contours de roches – Galerie Louise, Paris / curator: Sophie Gaucher
Grafik i Väst, new members show- Gotebörg (Suède)
ITINERENCIA 2014 – Casa de Velázquez – Madrid / Veruela Monastery – Zaragoza / EOF Gallery – Paris
One Day in la Casa de Velazquez – Casa de Velázquez – Madrid
Festival Mirada des Mujeres – Casa de Velázquez – Madrid
Casa de Velázquez Open Day – Madrid
La Bolsa o la vida, tribute to Jose Guerrero – Casa de Velázquez – Madrid / curator : Pablo Sycet
2013
Estampa, Multiple art fair – Madrid
Salon des Créateurs d'Estampe, with David Maes – Paris
Salon d'Automne – Paris
Art on Paper+1, White Hôtel – Bruxelles / Galerie Graphem
Nordic Landscapes, Fyns Grafiske Værksted – Odense (Danmark)
Contemporary Printmaking European Triennal, Galerie "Le Majorat Arts visuels" – Villeneuve-Tolosane (France)
D:Dessin – Paris / Galerie Graphem
2012
Estampa, Multiple art fair- Madrid
Salon d'Automne – Paris
ARTéNÎM – Nîmes / Galerie Graphem
St'ART – Strasbourg / Galerie Graphem
Casa de Velázquez Open Day, invited artist – Madrid
54th art fair Pointe & Burin , Fondation Taylor – Paris
2011
Parcours d'Artiste – Pontault-Combault (France) / Curator: Cécile Bourgoin-Odic
Le Pré au 6 Gallery / Pretext – Paris
Prints / printmakers collective, Centre Culturel des Amandiers – Paris
Salon de Mai – Paris
Centre d'Art La Rectoria / TRANSART10 – Sant Pere de Vilamajor (Barcelona, Spain)
2010
Travelling Sketchbook Biennal, contribution to A/R magazine – Clermont-Ferrand
BIMPE VI , The Biennal International Miniature Print Exhibition – Vancouver
Lessedra World Art Print, Sofia (Bulgaria)
Marcigny Vth Biennal – Marcigny (France)
Cité Internationale des Arts – Paris
2009
Kiosque / Images – Paris
Curators : Ann Guillaume & Leyla Goor
GRANTS / RESIDENCIES
2016 – 2018
Fondation Dufraine – Chars (France)
2014
Fondation Pilar i Joan Miró à Majorque : invited artist – Palma de Mallorca (Spain)
Edition residencyat the Maison de la Gravure Méditerranée – Castelnau-le-Lez (France) / Conflits Project in duo with Stéphanie Cazaentre
2013 – 2014
Artist Member of France Academy in Madrid, Casa de Velázquez
2013
Arts Residency in Moncontour (France) / Conflits Project in duo with Stéphanie Cazaentre
Artist Retreat – Upernavik (Greenland)
Fyns Grafiske Vaerksted – Odense (Danmark) / Kulturstyrelsen Grant (Danish Agency for Culture)
2012
Fondation Pilar i Juan Miro in Mallorca Laureate : Residency grant at Casa de Velázquez, Madrid
2010 – 2012
Pépinières Européennes pour Jeunes Artistes Laureate / HITO program: Residencies project about development of pyrenean patrimony
Jacobeo in Progress,2010 – Hecho, Spain
Research Residency, Antonio Saura engraving studio, 2011 – Fuendetodos,Spain
Pireneos in Progress, 2012 – L'Usine, Tourneufeuille (France)
2010
Residency grant at the Centre d'Art La Rectoria – Sant Pere de Vilamajor (Barcelone, Spain)
2009 – 2010
Pierre Gautier-Delaye Price, Cité Internationale des Arts – Paris
AWARDS / DISCTINCTIONS
2017 Selected for the Drawing David Weill Prize – Paris
2014
Wildenstein Prize from the Académie des Beaux-Arts
Selected for the Grafic Prize from the Calcografia Nacional – Madrid
Selected for the Drawing David Weill Prize – Paris
2014, 2012 Selected for the Maximo Ramos Prize – Ferrol (Spain)
2011 Nominated for the Fondation GRAVIX Prize – Paris
2010 Art Kudos International Juried Art Competition & Exhibition – 'Merit Award'
PUBLISHING
2017 Double Séjour 01 / interview with the curator Thomas Havet
2016
Point Contemporain N°1 paper review, about collective show Double Séjour / Parages
Arfabetic, Bibliografic Dictionary of French Visual Artists.
2015
Interview at the studio realized by Point Contemporain, online review en ligne dedicated to contemporary art
Actuel de l'Estampe N°5, review dedicated to contemporary printmaking
2014
Jerez Newspaper, critical text from Bernardo Palomo
Itinerencia 2014 Catalog, critical text from Enrique Gonzalez
Festival Mirada des Mujeres Catalog
2011 Versal 9, drawings published in th Literay & Art annual out of Amsterdam
2010 A/R Magazine, drawings published in the travel magazine n°2
Sketchbook / following Henry de Monfreid in the Arabic Golfe and the Red Sea.
2006 ENSAD Library, conservation of diploma's essay
MEDIAS / TALKS
2014
Interview TV Lebrija (Spain)
Interview Radio Lebrija (Spain)
Presentation Talk at Jerez Art School (Spain)
COLLECTIONS / ACQUISITIONS
Centre d'Art la Rectoria (Spain)
Fondation Fuendetodos Goya (Spain)
Fondation Pilar i Juan Miro (Spain)
Casa de Velazquez (France/Spain)
Personal collections
PROFESSIONAL EXPERIENCES
2018 Substitute teacher for etching classes at Ateliers Beaux-Arts de la Ville de Paris
2017 – 2018 Contemporary printmaking teacher and supervisor of the printmaking workshop at Paris College of Art – Paris
2014 – 2018 Cultural mediations for children : Parcours d'Artiste collective show, Pontault-Combault (France)
2013 – 2018 Book Binding Workshop for Art Students at Lycée J. Prévert, Boulogne (France)
2016 – 2017 Jury for preparatory class at Beauvais School of Art
Substitute teacher for etching and drawing classes (childs/adults/preparatory class) at Beauvais School of Art
Drawing / painting course for children at Ateliers de la Cour Carrée – Pontault-Combault
Drawing private lessons – Paris
2015 – 2016
Drawing / Painting lessons for adults: teacher at center V. Gelez, Paris
Drawing lessons for children, teenagers and adults : substitute teacher at Ateliers de la Cours Carrée, Pontault-Combault
2015 Graphic arts lesson for children in school workshops : substitute teacher at Association AISE, Paris
since 2007 Free-lance graphic designer
2008 Hachette – Livre de Poche, Paris : Graphic designer / Layout for the artistic service, LGF Studio
2006 Astrapi – Working experience for graphic design and layout
1997- 2003 Activity leader in outdoor centers
2002 – 2003 French and Latin private teacher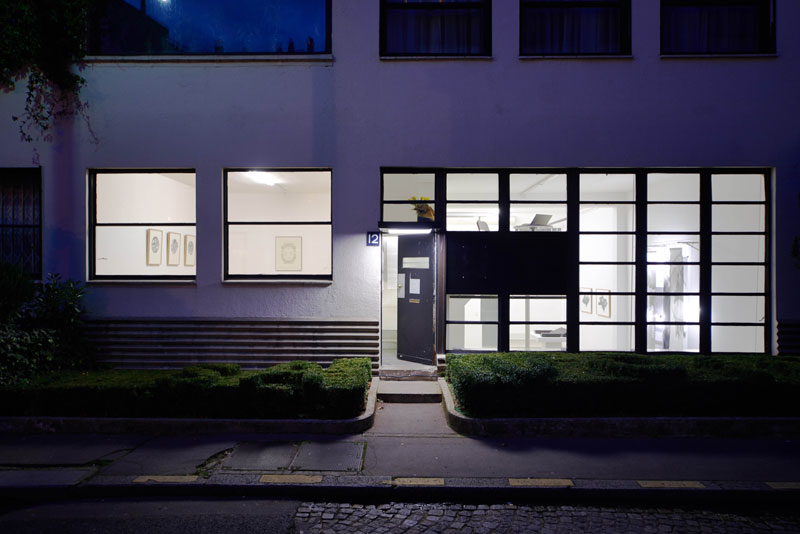 Vue de l'exposition Futurs Composés à la Villa Mallet-Stevens, Paris / photo: Juan-Cruz Ibanez, 2015